Did you know that not all Rescue Ranch dogs wind up as household companions? We make a lifetime commitment to them and work hard to find the best possible situation for our dogs. Usually that means finding them a wonderful home where they be the full time pets and companions they were meant to be. We've discovered that sometimes, however, Rescue Ranch dogs end up living their best lives as working and service dogs.
Vader the wonder dog
Recently, we learned that, sadly, Rescue Ranch's first search and rescue (SAR) dog crossed the rainbow bridge. His name was Vader.
Vader was recruited by the Search Dog Foundation (SDF) in January, 2015. His strong ball drive and people skills made him a good candidate. He did well at every stage of his training and was eventually partnered with San Francisco firefighter Eli Thomas of California Task Force 3 (CA-TF3). The two then achieved FEMA Certification in the spring of 2016, which allowed them to deploy when disasters occurred. And occur, they did.
In 2017, Vader and Eli went on their first mission together in the aftermath of Hurricane Irma. As one of 16 search teams, they spent two weeks on the East Coast assisting people affected by the storm. They also deployed to Hawaii in 2018, in advance of Hurricane Oliva.
The search and rescue duo then recertified in 2019, and we're told that they "looked phenomenal out at the testing site."
They continued to work together until a tumor was discovered on Vader's leg in 2021. He underwent amputation in an effort to save his life and was retired from the task force at the end of October 2021.
Vader learned to walk on three legs and enjoyed life as the Thomas family dog for several months. But the cancer returned, and, eventually, Eli had to make the difficult decision to ease his partner's pain and let him go in February 2022. It was a sad day for everyone who knew this amazing dog. The one consolation for us is that Vader, the rescue dog, found his true vocation as a rescuer himself. We couldn't have offered him a better life than the one he had with Eli Thomas and his family.
Other search and rescue dogs from Rescue Ranch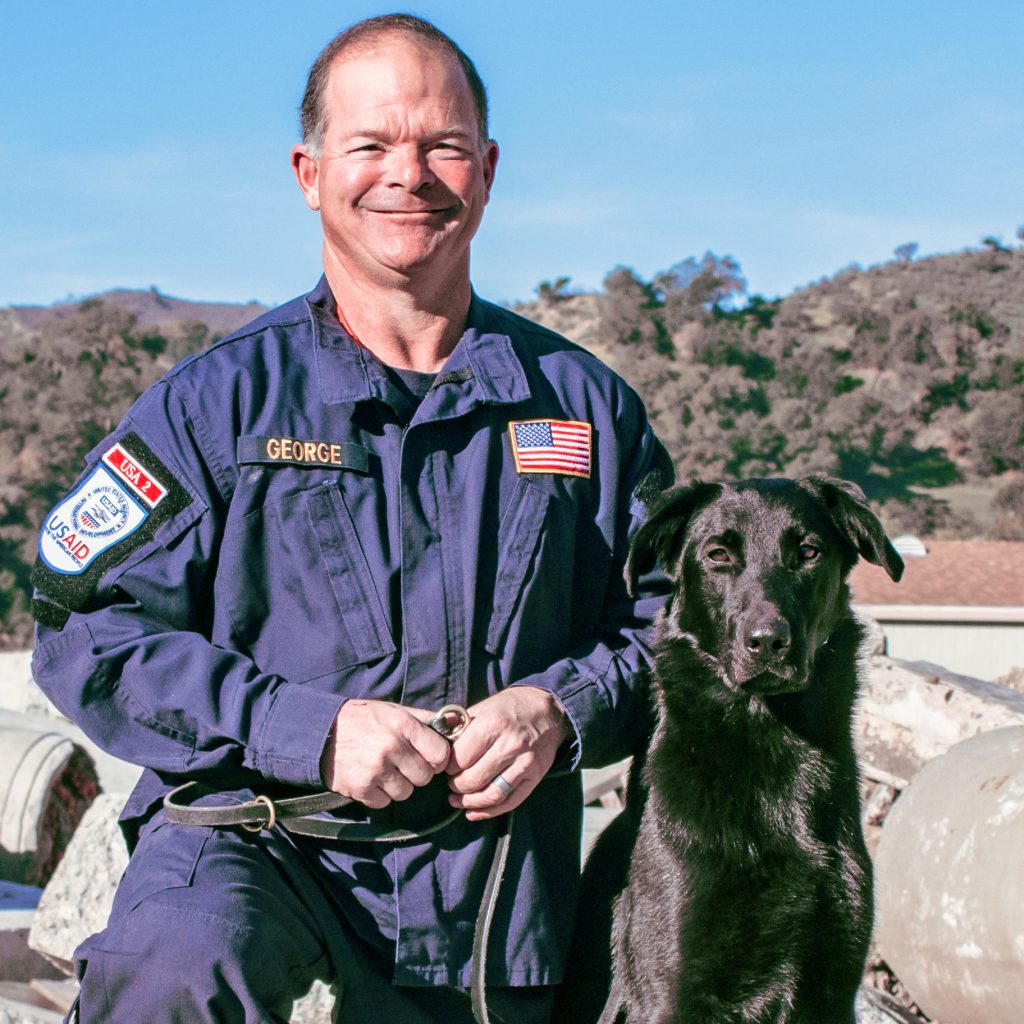 Vader's success in the SDF training program opened up new possibilities for other Rescue Ranch dogs. One of these was Shadow, a black Lab mix.  He was picked up as a stray in early 2016 and eventually his way to Rescue Ranch. When ranch staff saw his SAR potential, they contacted SDF. Sure enough, he passed the evaluation with flying colors and was soon on his way to training.
A short time later, his SDF trainer, Emily Fisk, reported that, "He LOVES to bark! Shadow really enjoys tennis balls and he especially enjoys water from the hose! He goes a little nuts when he sees the water hose in use! " He was eventually paired with his partner, Los Angeles County firefighter Robert George. They graduated together from the program in 2017 and went on to a bright future together.
Another dog who recently made it into the SAR program is Chirp, an atheltic, young, 60-pound, shepherd mix. He's named for the cute chirpping sound he makes when he's excited and searching for a ball. Chirp is currently training at SDF and we hear he's doing great!
Squirrel the the ball obssessed Forest Service dog
A strong ball drive is highly desirable in SAR candidates.  The ball gets the dogs started with the search process and keeps them interested. It's also the reward that they will do anything for, which keeps them motivated during training.  But a strong ball drive doesn't guarantee success in the SAR program, there are many factors that come into play. It may just be that a dog's superpower lies elsewhere.
Take Squirrel, for example. She had an absolutely relentless ball drive. Rescue Ranch dog handler Austin Browder, tells me that she was "beyond energetic" when she arrived  in 2017. She was also an escape artist who would literally "climb the ceiling" of her covered kennel!
He used her ball drive to gain her trust and keep her both physically and mentally engaged. The video below shows her running with a ball and chased by puppies. After-hours, Austin would hide the ball somewhere in the office: on top of cabinets, behind furniture, anywhere he could. Squirrel could always find it. He says she was like a cat. She would climb around without knocking anything over to get that ball.
Squirrel seemed like a no-brainer for SDF, except for one thing: she was people reactive. Whatever her past, Squirrel had trust issues with humans and was extremely selective. The ball training helped with her issues but not enough to succeed as a SAR dog. Luckily, her amazing talents were recognized by USDA handlers and she went off to train at one of their facilities. When she finished her training, she was slated for the Forest Service where she would search for signs of avian flu. Way to go, Squirrel!
Lady and Siska find the perfect job for their skills
Siska, a shepherd/ border collie mix came to us in 2020. She appeared to have the qualities required for SAR and was recruited into the SDF program. She  did very well in her search training, but,unfortunately, her trainers discovered that  "she was reactive to other dogs off-leash." This was a  problem because "search is a job that requires frequent exposure to different dogs off-leash." Thankfully, SDF  also makes a lifetime committement to the dogs that enter their program.  Siska was no longer an SAR candidate, but she continued to receive training and socialization while she waited to be matched with an adoptive family or another vocation.
Then in May 2022, she finally found her calling as a conservation canine on the Rogue Detection Team. According to SDF, the connection between Siska and her prospective handler was immediate.  Siska is now living her best life working with on bat conservation in Iowa with her wonderful team leader and adopter, Skye.
Lady was another dog, who, although she was good with people and had a strong ball drive, didn't make it in SAR. Instead, she also found a home with the Rogue Detection Team as an environmental detection dog at a wind turbine farm.
We think she really hit the jackpot with her handler, Sarah, and her canine companion, Ptero. According to Sarah, "Lady and Ptero are the absolute cutest pair you have ever seen! They LOVE each other and today started to do everything like twins. It's insanely cute to watch these two fetch obsessed black floppy-eared beauties together. We are so delighted to have her join the pack. She's like a perpetual puppy and just brings so much joy and laughter."
Sounds pretty idyllic to us!
Littles make great working and service dogs too!
Generally speaking the term "working dog"is associated with medium to large breeds, but small dogs sometimes have jobs too! Take Peach, for example,a long haired Chihuahua who became a police search and rescue dog in Japan in 2010!  It's more common, however, to find small dogs in service roles.
Several Rescue Ranch "littles" have become service dogs. Selected and trained to meet the needs of specific individuals, they now live full lives supporting their very own human.
Pictured here, is one lucky pup off to train at Dogs For Better Lives in southern Oregon.
So, as you can see, despite their often difficult beginnings, rescue dogs are amazingly diverse and can be found in the most unexpected places, engaged in a wide variety of activities.
When you support Rescue Ranch, you not only give dogs a chance at life, you give them a chance at living their best lives as working and service dogs, or simply as forever companions.