Name: Ozzy
Age: 5 years
Breed: German Shepherd/Staffordshire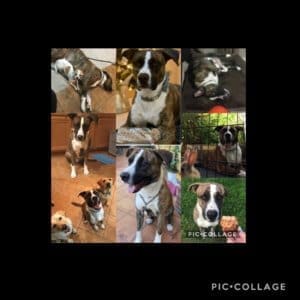 I currently live in Eastvale California.
About Ozzy:
Ozzy is a 5 year old German shepherd/Staffordshire mix. He is very sweet and lovable to humans and children but should belong to an only dog family and primarily be an indoor dog. No small dogs or cats. He walks well with a gentle leader, is house trained, waits for his food, sits, lays down, does fist bumps, and rings the bell to go outside. He has such good patience with people, I have painted his nails and dressed him up and he just went with it. He absolutely LOVES hugs and kisses and his favorite toys are hollow marrow bones, and tennis balls. He loves playing in the pool and running around and his absolute favorite treat is ice cubes. He has the heart of a puppy and wants nothing more than to belong to a loving family.
Please contact the owner directly at (909) 573-7307
miaherrera0402@gmail.com
The dog you see above is a local owner surrender.
The dog is not a Rescue Ranch dog and is not currently at Rescue Ranch.