In March and April of 2021, Jenna Lee and Jaycee Johnson, conducted a raffle to benefit Rescue Ranch. It was all part of their Girl Scouts Silver Award project. The prize was a cord of wood, cut by the girls themselves. They held a drawing on May 1, 2021, at the "May Day! at Rescue Ranch" emergency preparedness community event in Yreka, and delivered the cord to the winner the very next day. The two Girl Scouts raised a whopping $1007 for the ranch!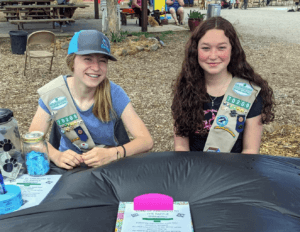 We asked fourteen-year-old Weed resident Jenna about the project and her involvement with the Girl Scouts.
Girl Scouts chose Rescue Ranch as the "deserving cause"for their project
According to Jenna, when she and thirteen-year-old Jaycee from Dunsmuir, were choosing a deserving cause, they focused on dog rescues because "dog rescues always need help." We certainly can't argue with that. When we asked why they picked Rescue Ranch, Jenna said, "They're good people, and it's a good place." Thanks for the kudos Jenna, we do our best! 
As it turns out, Jenna and her family know all about the work we do here at the ranch. Four years ago, they adopted the boxer/lab mix puppy pictured here and named her Zoey. Jenna says that she is a great dog and has been a wonderful addition to the household.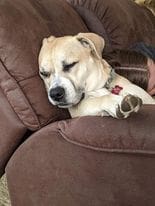 Zoey is one of the hundreds of success stories to come out of Rescue Ranch over the years. We helped her find a loving forever home, where she could thrive. The rest is down to her adopters, who have given her the amazing life she deserves. Outcomes like that are why we do this work. 
Silver Award project helps the Scouts bridge from Cadette to Senior, all while promoting responsible dog adoption
Both Jenna and Jaycee have been with the Girl Scouts since kindergarten. According to Jenna, she really enjoys the sense of community among her sister scouts, as well as the adventure activities she might not otherwise have a chance to engage in. She also values the many leadership and practical skills she has acquired along the way. 
Obtaining their Silver Award will allow the two friends to bridge from Cadette to Senior Scouts.
Jenna and Jaycee want to do their part to keep dogs out of shelters by helping to educate the public around responsible dog ownership. So, they've decided to round off their Silver Award project with an educational element: a newspaper article about what you should know before adopting a dog, and how to prepare for the new arrival. 
Good for you Jenna and Jaycee! We agree that it is very important to consider your circumstances, your lifestyle, and the needs of your dog before you adopt. That is how you will find your ideal companion and build a lifelong relationship that works for everyone involved.